WHEN: Wednesday | March 15, 2023 | 9:00 AM – 11:00 AM

WHERE: Virtual, hosted through Zoom
WHY: Calling all DMAR members! You're invited to attend a FREE member-only meeting and virtual presentation on March 15th. This is your chance to get your questions answered by Marcia Waters, Colorado's Director of the Division of Real Estate. Her presentation will cover forms the division is currently working on, several projects related to the real estate broker program, common complaints and issues that the division sees and an update on the license population numbers and complaint statistics. This is excellent information you won't want to miss! We'll also be joined by DMAR leadership to discuss and vote* on proposed amendments to the DMAR bylaws.
*You must be present to vote (camera must be on and you must be visible). Only Realtor® members of DMAR in good standing may cast their vote.
PRICE: Free for DMAR members

CE CREDITS: 0
About Our Speaker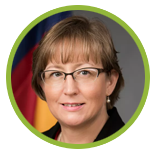 Marcia Waters
In October 2010, Marcia Waters was appointed as the Director for the Division of Real Estate, one of nine divisions located within the Colorado Department of Regulatory Agencies.  The Division of Real Estate licenses and regulates approximately 85,000 real estate professionals.  Ms. Waters serves as the administrator for the Real Estate Commission, the Board of Real Estate Appraisers, the Board of Mortgage Loan Originators, and the HOA Information and Resource Center.  Ms. Waters manages the Division's $7.9 million budget, oversees a staff of approximately 48 full-time employees, and establishes the direction of Division programs based on market and industry trends. Prior to assuming the role of the Division Director, Ms. Waters served as the Investigations and Compliance Director, and was responsible for three investigatory programs and the expedited settlement program for the Division.  She previously fulfilled the role of chief investigator for the real estate program, and was responsible for a staff of nine investigators.  Ms. Waters began her career at the Division as a Criminal Investigator for the Real Estate Commission.  Prior to working for the Colorado Division of Real Estate, Ms. Waters was police officer for the Lafayette Police Department for approximately eight years, four and half of which she served as a detective for the general and family crimes units.  In 1998, Ms. Waters was recognized by the Boulder County Safehouse for her work with the victims of domestic violence and their children.  Ms. Waters has also investigated welfare fraud for the Adams County Department of Social Services, and she worked as a Bond Commissioner at the Boulder County Jail.  She gained valuable experience in the real estate industry as a real estate broker serving the Boulder County area.  She graduated from the University of Colorado at Boulder with a B.A. in Sociology and she is a native of beautiful Colorado.