SentriLock, the official lockbox solution for the National Association of Realtors®, is now the official lockbox for DMAR members, too!
Getting started
Purchase your SentriLock electronic Bluetooth lockbox from DMAR. Boxes are $128 each and can be picked up at any DMAR office location (by appointment only). To purchase a box, please call 303-756-0553.
Download your SentriKey® mobile app. Give us a call at 303-756-0553 to get access to the app.
App like a Realtor® with the SentriKey® mobile app
Earn your sellers' trust with world-class security. Simply and securely manage all access to clients' homes when you use SentriLock lockboxes - which are exclusively available to Realtors®. You not only decide who can enter but also when.
Value your personal safety and get peace of mind. Just as important as client safety is your own. In this high-risk occupation, the agent safety feature is an essential tool.
Are you ready to app like a Realtor®? Our staff of experts is here to get you started quickly and easily. Give us a call at 303-756-0553 to set up your SentriKey® Real Estate app today!
Electronic lockbox advantages
Safety isn't a priority. It's the priority. With SentriLock's proprietary hardware and technology, you will help keep your homeowners safe. Exclusive reporting features let you know who accessed a property and when. You can also provide secure keyless and temporary access. As a Realtor®, your safety is also important. When using SentriKey®​ to open a lockbox, the Agent Safety Feature will launch. This feature will automatically alert your designated emergency contacts when you do not, or cannot, confirm you are safe.
Save time with managed access. Grant access for out-of-area agents, contractors, home inspectors and others with the free SentriConnect® mobile app. This is an easy - and secure - way to grant temporary access to your lockbox on a certain day, at a certain time and for a certain duration to non-SentriLock users. 
Mobile access made easy. The SentriKey® mobile app allows you to release the shackle, open the lockbox key compartment, take ownership of a lockbox, assign a lockbox to a property and view lockbox access logs.
Never miss a showing. Users have access to the SentriKey® mobile app and one-day codes, easy-to-use tools that will ensure you never miss a showing.
New SentriGuard® Lockbox
Works with the SentriKey® Real Estate app. (SentriCards cannot be used on this lockbox.)
Has a bigger key compartment, that opens from the bottom, which accommodates various types of keys (key cards, key fobs, skeleton keys, etc.).
Allows you to grant temporary access to open a lockbox using a FlexCode™. Flex Codes™ can have a duration of 30 minutes up to 31 days. (Previous lockbox versions support a one-day code to open a lockbox.)
Has a stronger, more secure shackle that can only be inserted into the lockbox one way. When looking at the front of the lockbox, the longer side fits into the left side.
Has a longer battery life.
Need help? Contact SentriLock.
If you need further assistance, please contact SentriLock at 1-877-736-8745. Hours: 6:00 AM to 10:00 PM (MT), 7 days a week (except holidays).
SentriLock

Homeowners nationwide prefer an electronic lockbox over a mechanical box, and for good reason. Electronic lockboxes are an easier, safer option.
Quick, easy and SECURE!
Listing agents may use the SentriKey® Real Estate app to grant access to out-of-area agents, contractors and others. Agents can issue one-day codes or send invites to SentriConnect® for a FREE account enabling access to open lockboxes via Bluetooth.
Grant quick access to lockboxes. Simply select the lockbox and enter the day and times you are allowing access to a property, along with an email address for the SentriConnect user you are granting access.
Secure and trackable access. You'll receive instant notifications when the person you granted access to a property uses the SentriConnect app to open the lockbox. You can also manage and revoke access, giving you complete control of your properties.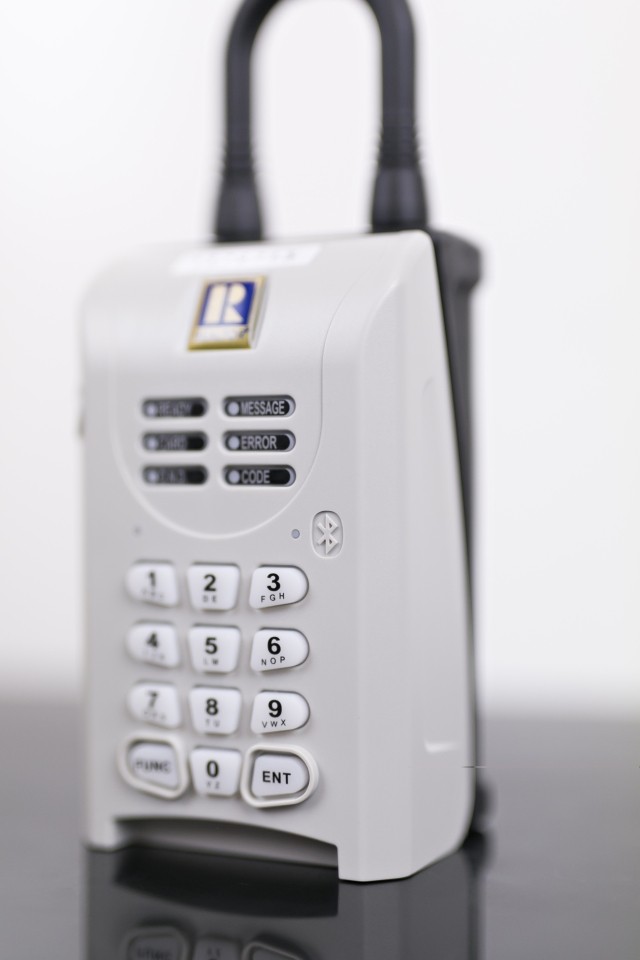 As the leading electronic lockbox manufacturer and leading provider of property access management solutions, SentriLock operates in support of Realtors® and the industry.
24/7
Voice response system
A 24-hour automated support line is available to retrieve a code to renew your SentriCard® or a one-day code for a lockbox.
Open lockboxes with Smartphones or Tablet, receive instant showing notifications, automatically assign or un-assign to property, generate one-day codes, view access log and more!
Homeowner safety and Realtor® safety are our top priorities. Exclusive reporting features let you know who accessed a property and when. Plus, you can also provide secure keyless and temporary access.