The Scoop on Sewer Scopes | Guest Post
Right now, the Denver Metro homebuying market has slowed down enough to allow time for home inspections and negotiations over findings.
My family business, Beams to Basements Contractors, does NOT do sewer scopes or cleaning, so this isn't a sales piece for our services. But one of my most important roles in the company and as a DMAR Industry Partner is to translate technical lingo from the building experts into plain language for homeowners to understand their projects. (I also convey customers' design choices to the installers to ensure smooth projects that exceed expectations.) I hope this story about our experiences as first-time homeowners helps explain the importance of sewer scopes to your new buyers.
Right now, the Denver Metro homebuying market has slowed down enough to allow time for home inspections and negotiations over findings. We've also received the average annual rainfall, only halfway through the year. It's common for Colorado homes to have clay sewer pipes under their front yard to connect to the city water services. So, it's smart for buyers to get sewers scoped during the inspection period to make sure that overgrown roots haven't disrupted their lines. 
Did you know that you should clean your sewer line at least every other year? Not with rubber gloves and soap. Ewww! Sewer cleaning services will safely remove blockages in the sewer line from your home to the main sewer connection for your city or development. OK, it's still kinda gross, but you don't have to touch it.
A home inspection can discover countless, costly issues with a house that would have made us walk away from buying it, like structural, roof or mechanical problems. A sewer scope can reveal blockages, damage to the pipes and other problems with the line. In addition to everything that gets flushed down the toilet, cooking grease deposits can accumulate in pipes and clog them. Outside the house, tree roots seeking running water can grow into pipes through the tiniest opening, choking and breaking them. Pipes can also break when the soils around them shift. If the sewer lines aren't cleaned every 1 ½ to 2 years, these blockages and breaks can lead to costly repairs to the pipes and cause foul and expensive damage inside the home, too, such as sewage back up into your basement.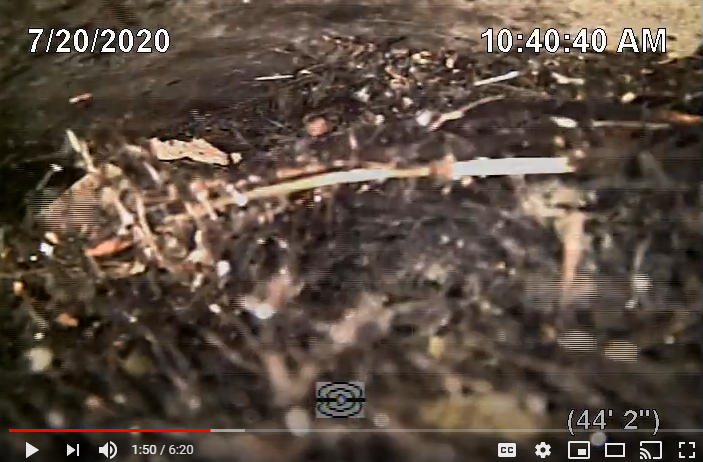 The horizontal line in the top third of this screenshot from our sewer scope is one of the spots tree roots grew into our sewer pipe.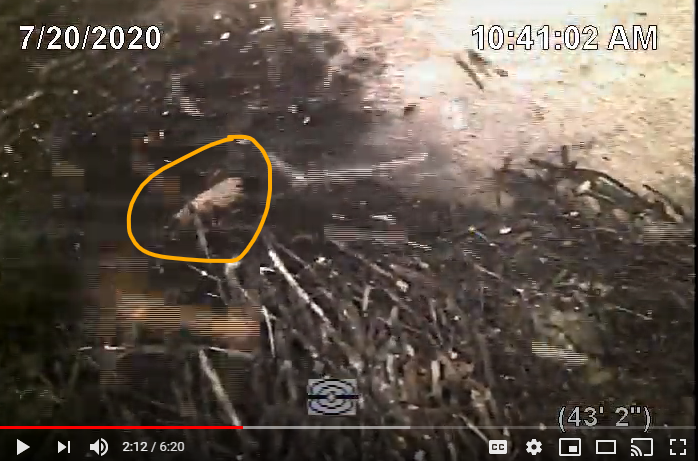 The orange circle points out another spot where roots grew into our sewer line.
A sewer scope is a video inspection of the pipes from the house to the street. Our rockstar Realtor®, Laura Gray, recommended that we get one done during the inspection period. She made an appointment for us with a sewer scope company that doesn't also do sewer cleaning. If they recommended the additional services, we knew that they weren't just trying to up-sell us, she explained. Unfortunately, their camera couldn't get past a blockage to explore the entire sewer line, so they told us we should clean the sewer line and get a second video scope. 
We had only asked the sellers for a 1-week inspection period, but we couldn't find another available company in the remaining time. Laura negotiated an extension to the inspection period for a few days to schedule the second sewer scope. Then, she again arranged the appointment for us. This cost twice as much as the first one, but we wanted to know if there were significant sewer issues. 
First, the company used high-pressure water to break up blockages, scour pipe walls, and push debris down the sewer system. Then, they sent a sewer auger with sharp teeth, also called a plumber snake, down the pipe and spun it quickly to cut through tree roots that had intruded into the pipes. Once they cleared all the blockages in the pipes, they did another video inspection. After the appointment, Laura reviewed the video and photos with us to help us understand what they showed.
After spending $425 to have the sewer line scope twice and cleaned, we were disappointed to learn that there was a 5-foot-long crack in a pipe that needed to be replaced. When we submitted our offer, Laura coached us to keep the important inspection option but added that we won't object to minor repairs under $5,000, like replacing the section of driveway in front of the carport to prevent cracks and erosion. However, we knew that these sewer repairs would cost a lot more than that inspection rejection threshold. We got an estimate for $8,900 to install a 10-foot plastic pipe and a new city main saddle.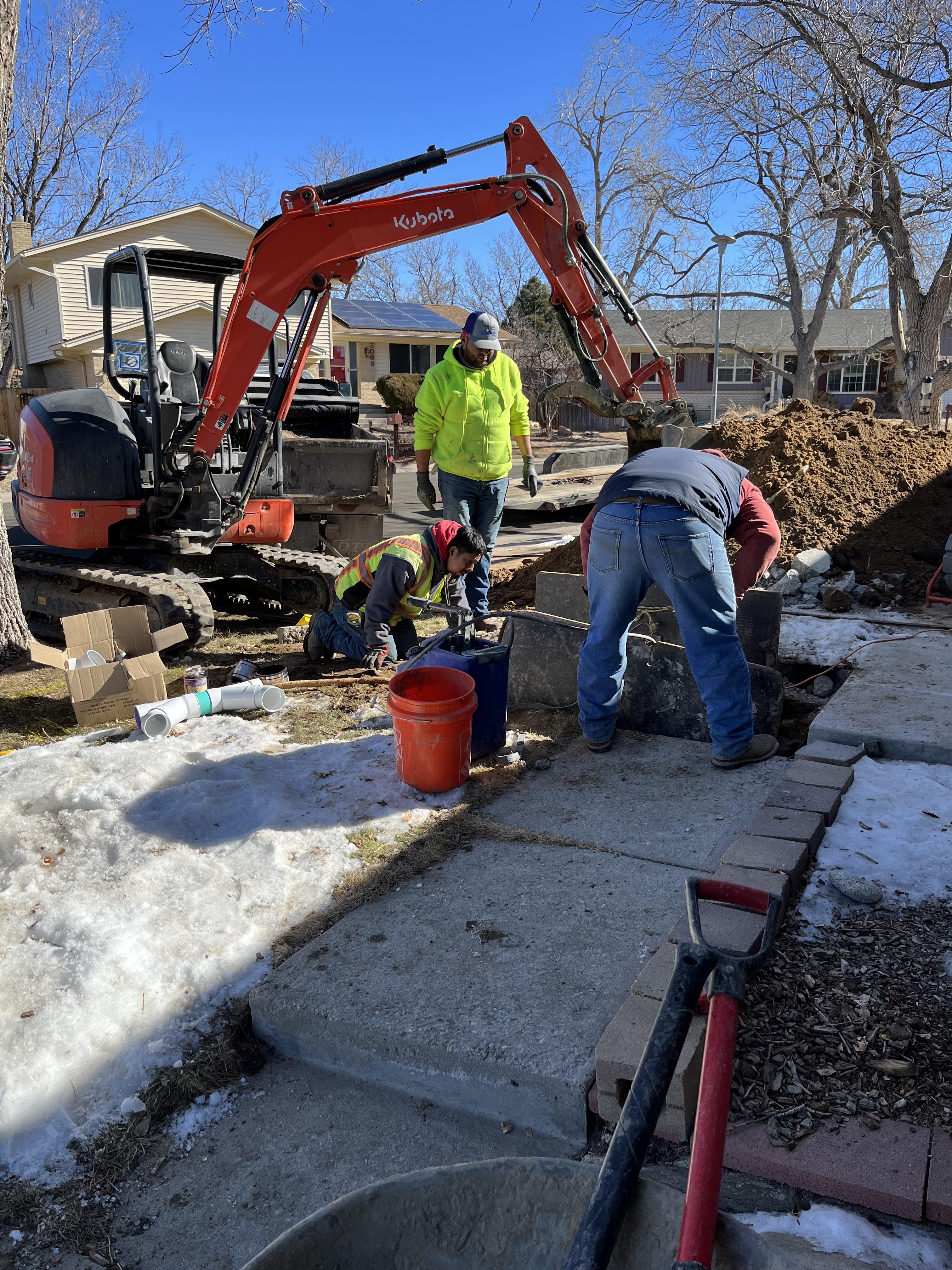 The repair crew dug a deep trench in the front yard from the home to the city sewer connection in the street.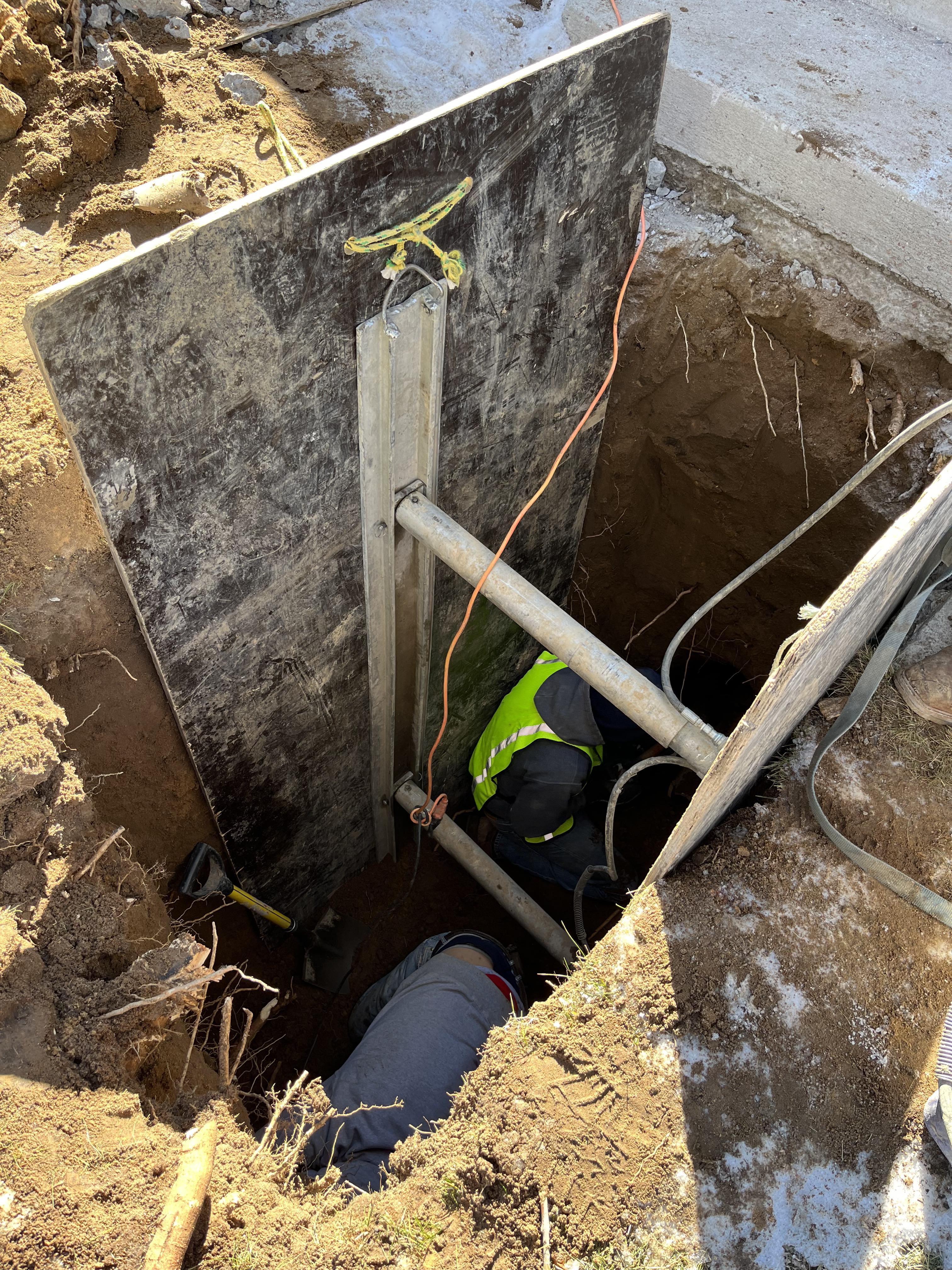 Two plumbers are in the trench, repairing and replacing the damaged sewer line.
Here's where our Realtor®'s expert negotiation really helped us! If we tried to change our purchase agreement because of this inspection finding, there was a risk that the sellers would refuse to contribute any money for the needed repairs or lower the sales price. Then, we would've had to decide if this expensive sewer work was a dealbreaker for us to walk away from the house. We also said that we wouldn't back out of the contract for up to $5,000 in repairs. They could have asked us to pay the first $5,000 and even split the balance owed above that. Instead, Laura convinced them to pay for the whole project and complete it before we closed on the house. 
HOMEBUYER TIP
It's worth repeating that we didn't waive the inspection period in our first offer on our first home—and it was still accepted in a multiple offers situation and hot real estate market of 2020. And, our Realtor® got the sellers to pay for a major sewer repair. Coincidentally, on the same day as our first sewer scope, our neighbors where we rented had a 30-yard trench cut through their front yard to replace the sewer line all the way to the street. It cost them over $20,000—and that doesn't include clean-up and repairs of the backup inside the house. Regardless of whether we or the sellers paid for the repairs, the cost was significant enough to impact our decision on whether to buy the home. And what a great reminder that we should proactively clean sewer lines regularly to prevent nasty plumbing emergencies and expensive repairs! 
Author Bio
Mim Ward and her husband, Josh, started Beams to Basements Contractors to provide trustworthy home improvement services across the West Denver suburbs. Their family business is built on their complementary strengths: superior customer service skills & 30+ years of carpentry. Mim serves as the translator & chief organizer between the tradespeople & homeowners to keep everyone on the same page. Josh does framing & finish carpentry, and oversees subcontractors & specialists to make all sure work is completed to their top-notch quality standards. They bought and completely remodeled their first home in 2020. Find more stories like this about their honest experiences as general contractors and first-time homeowners at BeamstoBasements.com/Stories.
Contact Info
Office #: 720-610-6615
BeamstoBasements.com
Facebook.com/BeamstoBasements
Instagram.com/BeamstoBasements
Linkedin.com/in/MimWard/
 
The views, opinions and positions expressed within this guest post are those of the author alone and do not necessarily represent those of the Denver Metro Association of Realtors®. The accuracy, completeness and validity of any statements made within this article are not guaranteed. We accept no liability for any errors, omissions or representations. The copyright of this content belongs to the author and any liability with regards to infringement of intellectual property rights remains with them.
If you are interested in submitting a guest post, please contact Sarah at sgoode@dmarealtors.com.