November 2020 Election Endorsements - Updated 10.9.20
Candidates were carefully vetted and endorsed based upon their accessibility, understanding of real estate issues and their support of our industry. All candidate and ballot measure endorsements were approved by DMAR's Candidate Interview and Government Affairs Committees as well as the Board of Directors.
We are proud to present our endorsements for the upcoming municipal elections. Please consider supporting the candidates and ballot measures listed below and turn in your ballot no later than 7:00 PM on Tuesday, November 3rd. If you have questions or would like more information, please contact Peter Wall, DMAR's Director of Government Affairs, at 
. 
On Nov. 3, the Denver Metro Association of REALTORS® encourages you to vote and make your voice heard. Please visit www.GoVoteColorado.com to update your voter registration and track your ballot.
Below you'll find DMAR's local candidate and issue endorsements for the November 2020 election. Our Association prides itself on supporting candidates and issues that strengthen our communities and protect property rights. All endorsements and positions were taken after thorough consideration from DMAR's Government Affairs Committee and Board of Directors.
Please click HERE for the Colorado Association of REALTORS® candidate and issue endorsements.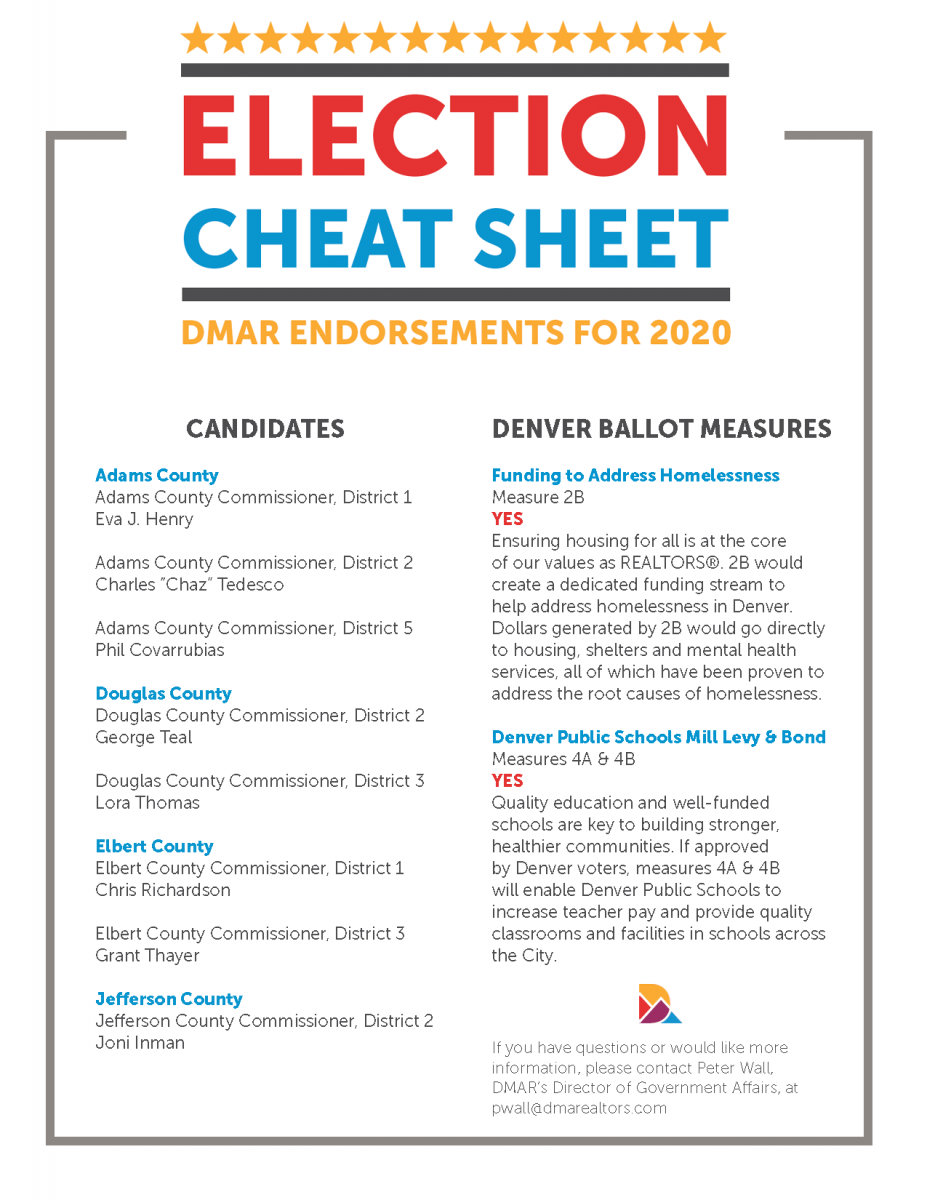 Adams County
Adams County Commissioner, District 1
Eva J. Henry
Adams County Commissioner, District 2
Charles "Chaz" Tedesco
Adams County Commissioner, District 5
Phil Covarrubias
Douglas County
Douglas County Commissioner, District 2
George Teal
Douglas County Commissioner, District 3
Lora Thomas
Elbert County
Elbert County Commissioner, District 1
Chris Richardson
Elbert County Commissioner, District 3
Grant Thayer
Jefferson County
Jefferson County Commissioner, District 2
Joni Inman
Denver Ballot Measure 2B – Funding to Address Homelessness
The referred measure proposes an increase of .25%, or 25 cents on a $10 purchase, to Denver's Sales & Use Tax effective January 1, 2021.
If approved by voters, the tax increase would generate an average of $40 million annually to support homelessness initiatives such as:

Filling funding gaps to increase the number of new supportive housing apartments by 500 for a total of 1,800 new units over 10 years;
Enhance 24/7 services, medical care and shelter strategies;
Improving health and housing outcomes to establishes shelters through more physical, mental and employment support;
Restoring lost shelter capacity;
Supporting programs to combine housing and services.
Why DMAR supports measure 2B:
Ensuring housing for all is at the core of our values as REALTORS®. Unlike initiative 300 (aka The Right to Survive Initiative) which was defeated on Denver's May 2019 ballot, 2B would create a dedicated funding stream to help address homelessness in Denver. Dollars generated by 2B would go directly to housing, shelters and mental health services, all of which have been proven to address the root causes of homelessness. By investing in a solutions focused approach, we can work towards housing our unhoused neighbors and strive to improve the quality of life for all Denver residents.
Denver Ballot Measure 2A – Climate Funding
The measure proposes an increase of .25%, or 25 cents on a $10 purchase, to Denver's Sales & Use Tax effective January 1, 2021.
If approved by voters, the tax would generate an average of $40 million annually to support programs intended to eliminate greenhouse gas emissions and air pollution. These would include:

Increased investments in solar power, bather storage and other renewable energy technology;
Neighborhood-based environmental and climate justice programs;
Adaption and resiliency programs that help vulnerable communities prepare for a changing climate;
Upgrade the energy efficiency of homes, offices and industry to reduce their carbon footprint, utility bills and indoor air pollution.
Job creation in renewable and clean energy technology.
Why DMAR did not take a position on measure 2A:
Measure 2A is the result of months of hard work by Denver's Climate Action Task Force which DMAR served on. Initially, there was a citizen's initiative on the November 2020 that would have taxed energy and natural gas usage. DMAR had significant concerns with the initiative given its direct impact on housing costs and the lack of sufficient exemptions for low-income households. The Climate Action Task Force was charged with finding an alternative that would generate funding to address climate change but do so in a more equitable manner. The Task Force vetted numerous proposals but ultimately settled on a sales tax which is paid by a broader universe (i.e. tourists and Denver workers, not just residents). While DMAR came to consensus with the Task Force, we still have reservations around a sales tax which can disproportionally impact lower-income individuals and families. Still, from an equity standpoint, we believe 2A is better than the alternative and there is a need to reduce greenhouse gas emissions and air pollution. For those reasons, DMAR chose to not to take a position on the measure.
Denver Ballot Measures 4A & 4B– Denver Public Schools Mill Levy & Bond 
Measure 4A would increase property taxes up to four mills to generate $32 million or more annually for Denver Public Schools to fund ongoing operational needs such as teachers, software, school nurses and social-emotional support. More specifically, measure 4A funding would go towards the following:


Low Wage and Compensation Increases – $17 million;
Mental Health Staff and Support – $3 million;
Nursing Services – $4 million;
Special Education Services, including paraprofessionals and speech language pathologists – $2 million;
Charter Share – $6 million.

Without raising taxes, Measure 4B would allow Denver Public Schools debt to be increased to $795 million to fund capital needs such as new school buildings, older facility upgrades, critical maintenance and educational technology. More specifically, measure 4B funding would go towards some of the following:


Capacity – $65 million;
Quality Learning Environments (funds for classrooms, fields, labs, gyms, etc) – $65 million;
Maintenance – $208 million;
Cooling, including air conditioning, for 24 schools- $128.5 million;
Technology & Safety – $65 million;
Montbello Campus – $130 million;
General Fund Relief – $25.5 million;
Food and Nutrition Services Greenhouse – $2.1 million;
Why DMAR supports Measures 4A & 4B:
Quality education and well-funded schools are key to building stronger, healthier communities. If approved by Denver voters, measures 4A & 4B will enable Denver Public Schools to increase teacher pay and provide quality classrooms and facilities in schools across the City. 4B, the bond, allows DPS to take on significant and necessary capital projects without increasing taxes. While 4A, the mill levy, would mean a small property tax increase (~$4 a month on a home valued at $465,000), DMAR believes these dollars will increase student support and teacher retention, both of which will lead to a stronger district and better neighborhoods.