Have YOU Secured Your .REALTOR Domain?
Now is the time to sign up for your unique .REALTOR domain and set yourself apart! Like the term REALTOR®, only REALTORS® can use top-level .REALTOR domains, differentiating them from other real estate professionals. These domains are instantly recognizable to consumers, reaffirming that you are a member of the National Association of REALTORS®, and that you adhere to the higher standard of ethics they can trust.
Learn more about the unique power of the .REALTOR domain with this video from NAR: 
Unlike .com domains, which anyone can create, .REALTOR domains immediately connect you to the $5 billion REALTOR® brand, with all of its powerful marketing value! NAR is educating the public that .REALTOR websites are sources they can trust, and is investigating innovative moves such as increased searchability as the Internet begins to evolve into industry-specific divisions.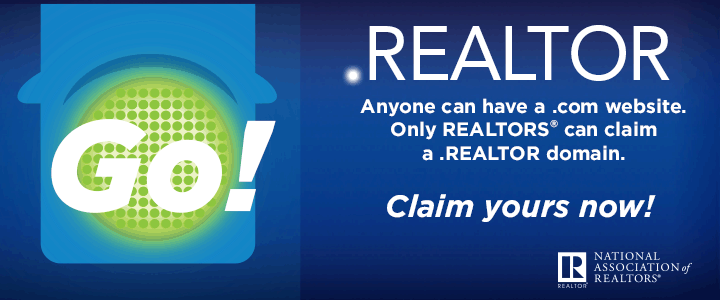 It's not just REALTORS who can seize this opportunity to get a unique domain. Starting on May 7, .REALTOR domains are also available to brokerages to implement! This benefits the entire REALTOR family, because the more .REALTOR web addresses there are, the stronger the REALTOR brand becomes. It is also an excellent way to make your brokerage stand out to potential employees, consumers, and other real estate professionals who are not affiliated with NAR and its high ethical standards. 
NAR believes it's important for the REALTOR community to lead the industry by creating this exclusive name-space consumers can instantly recognize and trust. Says NAR President Chris Polychron: 
"Early adoption of new technology is a vital part of how REALTORS® conduct business, and NAR is committed to staying on the forefront of the latest online tools. We hope associations and brokerages can take advantage of the .REALTOR domain to create an online space where home buyers, sellers and investors, as well as Realtors®, can go to find the most trustworthy, reliable real estate services and resources."
---
More than 95,000 .REALTOR domains have been claimed since October 2014. Don't wait--get yours NOW. 


For more information on claiming the .REALTOR domain, which is available to associations and brokerages starting May 7 at 10 a.m. CDT, visit www.about.REALTOR.
Learn more by downloading NAR's Fact Sheet or FAQs.