A summit for women who rally and rule. #GetWiredUp
Attend this one-day event and connect with women around you, join in conversation and hear from nationally recognized speakers. The program will include Keynote Speaker Ruth Zukerman, Co-founder of SoulCycle & Flywheel, a panel with powerful female business leaders, thought leaders and some of the people who inspire us most. This summit will bring the spirit of cooperation and collaboration to life. We can't wait to see you there!
Early Bird Tickets on sale now! Prices go up August 9th.
Event Details
What: Wired Summit
When: Friday, September 27th from 8:00 AM to 3:00 PM
Where: Asterisk Denver | 1075 Park Ave. W. Denver, CO 80205
Speakers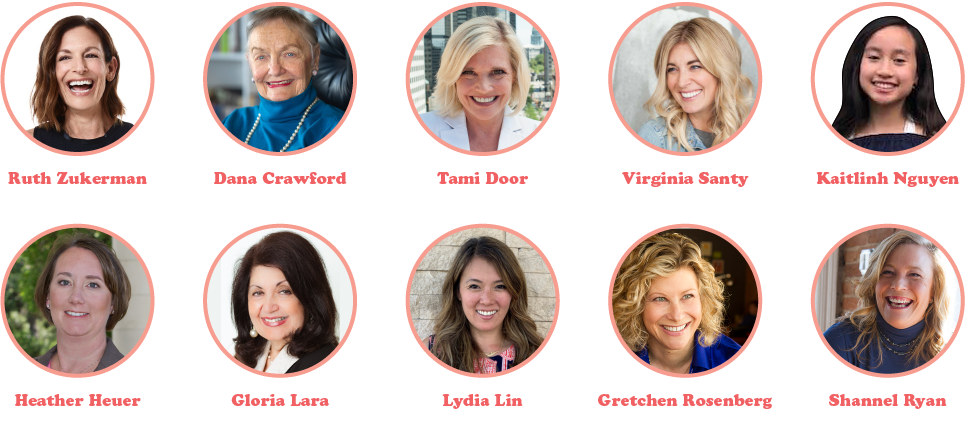 Ruth Zukerman​ | Co-founder of SoulCycle & Flywheel and author of the memoir, Riding High
Dana Crawford | American architectural conservation developer and preservationist 
Tami Door | CEO and president of the Downtown Denver Partnership
Virginia Santy | Founder & Editor in Chief at The Broadview Denver, Founder & CEO of Executive Suite Communication, Co-Founder of Women in Kind (WinK)
Kaitlinh Nguyen | 13-year-old inventor of slime
Heather Heuer​ | Senior Vice President - Sales Operations at LIV Sotheby's International Realty
Gloria Lara | Broker/Owner at RE/MAX Avenues
Lydia Lin | Ninja REALTOR®, Managing Broker & Principal at ONE Realty
Gretchen Rosenberg | President & CEO of Kentwood Real Estate
Shannel Ryan | Senior Vice President at LIV Sotheby's International Realty
The 5 Pillars of Wired
COMMUNITY We believe that together we are stronger, which is why we are focused on bringing together a diverse group of women to inspire and support one another. After all, we all know that behind every successful woman is a tribe of other successful women who have her back.
COLLABORATION Collaboration is not about ego, but rather working together with one another in order to achieve a shared goal. Let's inspire growth by championing and promoting collaboration.
CURIOSITY We challenge you to never settle. Stay hungry, stay motivated and keep fighting for the life, the career and the dreams you deserve. Your potential is unlimited. 
CONSCIOUSNESS What if instead of viewing our differences as weaknesses, we looked at pain points that exist for women as an opportunity for change? We're ready to get the conversation going.
CLARITY At the center of each of us is a key purpose or core value. We call this clarity. We believe that living a life full of purpose comes from finding and fulfilling your why. Are you ready to find yours?
The Official Playlist
Become a Sponsor
Want to be in front of a large and engaged group of business women who are serious about forming relationships to build their businesses? That's precisely what you'll get by becoming a sponsor of Wired. By participating as a sponsor, you are demonstrating your corporate support for diversity and inclusion initiatives. Sponsorship perks include:
Benefit from the exposure and goodwill of our conference for women by showcasing your support of the first year of Wired
Support personal and professional development for a diverse group of women, from new professionals to well-seasoned, senior corporate leaders
Become a brand recognized by the attendees as champion for the success of women in our industry
Gain visibility for your company through exposure before, during and after the event via our website, emails, social media and printed collateral
Associate your brand with other leading brands in our community
By participating as a sponsor, you are demonstrating your corporate support for diversity and inclusion initiatives
We have limited sponsorship opportunities available, including booths and speaking opportunities, so reserve your spot today.
If you have questions or are interested in sponsoring, please contact Chantel Babb, DMAR's Director of Events at cbabb@dmarealtors.com.
Thank You to Our Sponsors