BrokerBay Workshop Hosted by REcolorado
WHEN: Wednesday | September 14, 2022 | 2:00 PM - 3:30 PM
WHERE: DMAR HQ | 4601 DTC Blvd. #100 Denver, CO 80237
WHY: During this in-depth training session, you'll learn how to navigate the BrokerBay platform, get information at a glance from your BrokerBay dashboard, configure your listings and more. Plus, you'll get the first look at all the latest enhancements requested from REcolorado agents and be able to get all your questions answered during the Q&A.
SPEAKER: Costa Ntoukas
PRICE: Free
About Our Speaker: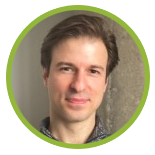 Costa Ntoukas is the co-founder and CEO of BrokerBay, North America's most advanced showing management platform. Costa began his real estate journey at 18, immersing himself in Toronto's market and becoming a top-performing agent and broker. When Costa saw a gap in his brokerage's current showing system, he set out to design and build a tool for agents that was unlike any existing product in the industry. With the engineering help of co-founder and CTO, Pavel Choulguine, BrokerBay is now the showing management choice of over 150,000 agents across North America.