Instant Equity is Just 45 Days!
with Michelle Schwinghammer & Nicole Kostelecky with RE/MAX Alliance - Olde Town Arvada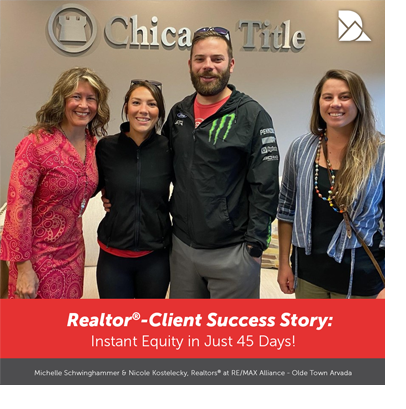 Have you been told the market is too aggressive to buy a home quickly? Here's a success story for you…
Michael and Camille are a young couple starting a life together in Colorado. After renting in Arvada for a few years, they decided steeply rising rent prices weren't part of their plan. Being totally new to homebuying, they were confused about where to start, but their Realtor®, Michelle Schwinghammer, knew the process all too well. Acting as their guide, she helped them make the most of everything they had going for them, including finding a highly experienced VA lender to work with. The couple works from home, which greatly opened up their geographic possibilities. With so much ground to cover, Michelle brought in her team member, Nicole Kostelecky, to help her provide the highest quality of service. Their newly assembled homebuying team worked swiftly and strategically to find them the perfect home. In just two and a half weeks, their offer won on the best home they had seen! Better yet, they didn't even have to pay above list price, and the home ultimately appraised for more than they paid! Appropriately, one day after Veterans Day (well ahead of their December 1 deadline) the happy couple moved into their Westminster single-family home. From start to finish, the whole process only took 45 days! Moral of the story? Don't let the market intimidate you, because those who go for it are the ones who win!