Local Search for Real Estate Agents & Home Services | Guest Post
Optimizing your local search increases the chances of getting ranked on search engine results pages (SERPS) for search queries specific to a region.
Marketing is an ever-changing facet of the real estate and home services industries. It was only several decades ago print media dominated media shares, whereas digital is now king. But what does digital marketing actually entail? It, in itself, is multifaceted. Below is a deep dive into local search, one of the most important aspects of digital marketing. Local search is not only necessary in today's world, but perhaps the key cog in a winning digital strategy, especially for businesses in the real estate and home services industries. To outshine the competition, you must stay ahead of the curve, which is why below we have detailed inside tips on optimizing your local search presence.
SEO vs. Local Search
Local search falls under the SEO umbrella. Search engines rely on over 200 factors to rank a website when matching with a search user, including location. If a user searches "real estate agents near me," the search engine will show them results near their current location or zip code. Additionally, certain queries do not require users to type in "near me" because it's implied, like "real estate" or "realtor." Same with "plumber" or "locksmith." These examples are considered local search, just to be clear for the purpose of this article.
Why is Local Search So Important?
A recent study showed 46 percent of searches on Google were local. Furthermore, the likelihood of a local search resulting in an in-store visit increases by 35 percent compared to non-local searches. This data supports the notion that Google wants to serve consumers results geographically close to where the search was performed because it provides a better user experience, which leads to another critical point. Mobile searches accounted for 54 percent of the world's traffic in the first quarter of 2021 and have recently eclipsed desktop searches across the board. Since consumers carry their cellphones religiously, the search results they receive could drastically vary depending on whether they are at a nearby coffee shop versus waiting in line at the bank.
To advance the growth of your business, you want to be listed as the top search result - yielding approximately 33 percent of all the traffic combined for a particular query. The top search result could be an advertisement, an organic result, a business listing, or even a map listing. The term local search refers to the latter two: business listing and map listing. To emphasize just how important local search is in digital marketing, two out of the four possibilities of ranking first fall under the local search umbrella.
Map Pack
The Map Pack, also referred to as Google Local-3, is the group of businesses you see on Google Maps when inputting a search query. Google typically displays three results on the map pack, with an option to click to see more. The Map Pack is often the first result when searching locally, especially on mobile devices.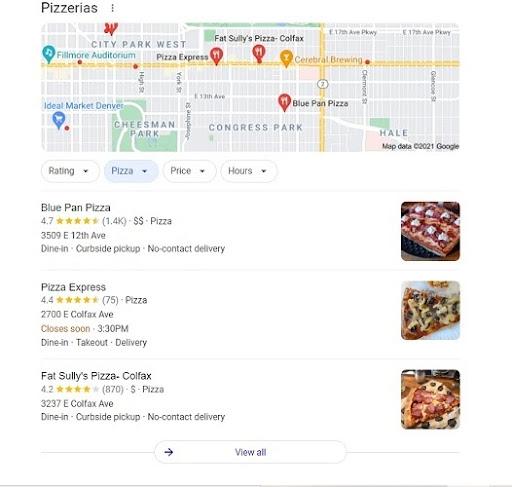 Business Panel
Google will often display a Business Listing Panel when users search for a business name or a search term closely related to the business name. On desktop, Business Listings appear on the right panel of search results, whereas on mobile devices, they will appear as the first result. Business Listings have become equally important as your company's website, as they show driving directions, reviews, hours of operations, contact info, etc. They also are usually shown higher than organic search results for local searches on mobile devices.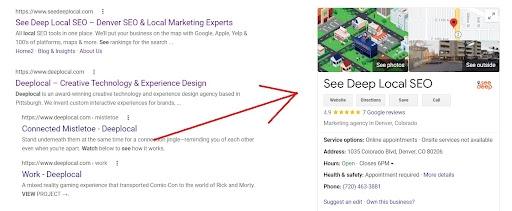 NAPWCHD Accuracy and Consistency
NAPWCHD. NAPWCHD. If you say it fast enough, it has a ring to it, doesn't it! Name, address, phone number, categories, hours, description. Attention to detail matters in digital marketing and ensuring your NAPWCHD information is updated across all directory websites is critical. Search engines such as Google take cues from other websites to confirm your business information is accurate. Therefore when they see your NAPWCHD is consistent across the web, they reward you by boosting your local search and displaying you higher in search results. As someone trying to stand out among potentially thousands of real estate agents in your city, it's important to register to as many online directories as possible, such as Yelp, Google Business, Yellow Pages, etc. Be sure to keep your business information accurate and consistent across the board.
Photo Quantity
Photos tell a story about your business. Whether you are an independent real estate agent or large brokerage, images allow potential clients to take a more personal look at your company's culture and way of doing business. Adding over 100 photos on your Google My Business Profile has been proven to increase map views and website clicks, giving your agency an edge against the competition. Moreover, images build trust and desirability with your audience, thus increasing conversions.
Online Review Strategy
Google Business profiles with frequent, positive reviews see a significant uptick in local search volume compared to companies with fewer reviews. As reported by MOZ, one of the nation's leading SEO platforms, reviews were the third highest ranking criteria for local map packs. As a real estate agent or brokerage trying to win at local search, you must implement a strategic online review campaign to bolster your brand reputation. By using QR codes on flyers or emailing happy customers a link to your Google Profile, you are making it easier for them to leave a review, which is half the battle. Furthermore, online reviews play an essential role in consumer purchasing decisions, as one study shows positive reviews increase conversions by 51 percent compared with those with no reviews.
Use The Right Keywords
Keywords are one of the most crucial aspects of a successful SEO strategy, but they are slightly different in local search. Let's say a company is trying to rank for the keyword "investment properties for sale" with a new blog post on their website. In that case, they shouldn't try to compete with investment properties in Dubai. Instead, their keyword should be "investment properties for sale in Denver, CO." Yes, this will lower the search volume for the term. However, they will bring in the right traffic. Also, the competition will be less steep, meaning you will be more likely to show up in the top results than if you were competing on a larger scale. Ideally, your company should create a list of keywords relevant to your business and spread them across your website. Using keyword research tools such as MOZ, Ahrefs, or SEMRush will help make your keyword research easier and more proficient.
Local and Relevant Inbound Links
Inbound links are a crucial part of SEO and can have an incredible impact on a website's local search. Google has been using inbound links for over twenty years to determine a website's domain authority, which ultimately plays a key role in how high you rank for specific search queries. For example, suppose your website has one-hundred inbound links compared to a competitor that only has ten. In that case, your site will probably show up higher in the search results. When building a successful local search campaign, you want to get as many links as possible from businesses within your area. You will also want the links to be relevant. For example, a pizza shop linking to your real estate website might look odd to Google, whereas a Denver Bureau of Commerce link looks organic. It's also essential that the link text (anchor text) is relevant and includes keywords related to your website content.
Conclusion
Optimizing your local search increases the chances of getting ranked on search engine results pages (SERPS) for search queries specific to a region. As an aspiring leader in the real estate and home services industries, fighting against thousands of competitors to gain online visibility may seem like a daunting task. However, if you start with local search by building reviews, adding photos, earning links and ensuring your website's content has the proper keywords, you will be ahead of the game. The tactics above will help you build a winning formula to expand your digital footprint and outshine the competition.
About the Author
Jack Roldan is the CEO of See Deep Local, a full-service digital marketing agency located in Denver, Colorado. See Deep Local has been in business since 2017 and is honored to be a member of DMAR. Jack is passionate about supporting the local Colorado community and is an active member of numerous charities locally and worldwide. A Colorado native, he is an avid skier and enjoys the solitude of the Rocky Mountains.
The views, opinions and positions expressed within this guest post are those of the author alone and do not necessarily represent those of the Denver Metro Association of Realtors®. The accuracy, completeness and validity of any statements made within this article are not guaranteed. We accept no liability for any errors, omissions or representations. The copyright of this content belongs to the author and any liability with regards to infringement of intellectual property rights remains with them.
If you are interested in submitting a guest post, please contact Sarah at sgoode@dmarealtors.com.