Ready. Set. Launch.: Get Your .REALTOR Domain
On Oct. 23, National Association of REALTORS® members will be able to snatch up a .REALTOR domain to better brand and connect their business to real estate on the Internet.
Carve Out Your Internet Space
How to Claim Your Domain on Oct. 23
Choosing a Real Estate Domain Name
Web Domain Choices Grow as Digital Real Estate Expands
NAR Wins Rights to '.Realestate' Domain
NAR is providing one free .REALTOR domain for one year to the first 500,000 members who register for one. Additional .REALTOR domains can also be purchased at that time. The domains will become available at 11 a.m. EDT on Oct. 23.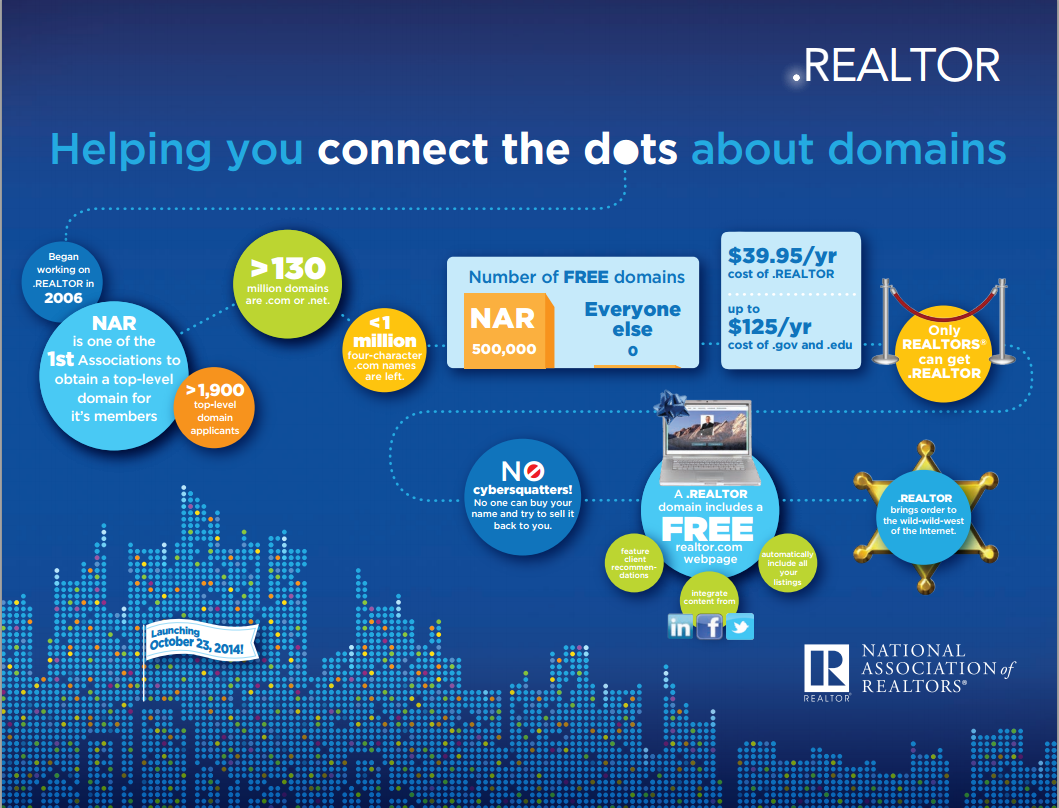 Click to view larger image or download PDF.
In 2011, the International Corporation for Assigned Names and Numbers — ICANN — approved expansion of new generic, top-level domains, besides just the common ones like .com and .net currently available.
NAR sought to provide its members a chance to link their names and brand with the .REALTOR domain. In other words, your home on the Internet can become "JohnSmith.REALTOR" instead of just "JohnSmith.com."
".REALTOR creates a name space for REALTORS® on the Internet," according to NAR. "It allows you and your agents to be instantly branded as real estate experts consumers can trust."
The .REALTOR domains will be available starting at $39.95 per year, with multiyear and multidomain discounts available. Brokers and agents in the United States will also receive a free realtor.com® profile website that can be customized to promote your listings, social media, client recommendations, and more.
Visit www.about.REALTOR for more information, or claim your domain on Oct. 23 at www.claim.REALTOR.
Source: National Association of REALTORS®
"Copyright NATIONAL ASSOCIATION OF REALTORS®. Reprinted with permission."