COVID-19 Updates from DMAR
We will continue to update this page regularly with information from the Governor as well as market implications and advice for REALTORS®, homebuyers, home sellers and your clients.
Additional Resources:
---
UPDATE: March 29, 2020
President Donald Trump said he would extend nationwide social distancing guidelines for another 30 days to April 30. He said that modeling shows that the peak of the death rate will likely hit in two weeks, but stressed that he hopes the country will be on its way to recovery by June 1.
UPDATE: March 27, 2020
DMAR's Chairman of the Board, Euan Graham, provides recommendations for REALTOR® and Industry Partner members working during the COVID-19 situation.​ Read memo here.
President Trump has signed a historic $2 trillion economic recovery package into law Friday afternoon, shortly after the House of Representatives approved the bill.
UPDATE: March 26, 2020
The Colorado Association of REALTORS® released a letter to members announcing that Governor Polis and the Department of Public Health and Environment have released an updated public health order in accordance with yesterday's executive order implementing a statewide "Stay-at-Home" Order, in effect from March 26 through April 11, 2020. The public health order was updated to include a number of critical services that includes Professional Services, such as legal, title companies, or accounting services, real estate appraisals and transactions.
The Colorado Department of Labor and Employment confirmed that it accepted nearly 20,000 unemployment claims last week, and between Monday and Wednesday of this week has accepted 45,000 applications into its system. These are preliminary numbers, according to the department, and may not accurately reflect the official numbers after verification.
More than 3.2 million people filed for unemployment nationwide last week, five times as many as the previous record of 695,000 for a single week in 1982, according to the U.S. Department of Labor.
Colorado Parks and Wildlife on Thursday closed the state's campgrounds until further notice.
Late last night, state health officials announced they are suspending the state's vehicle emission testing requirements in an effort to keep people home. Health officials said they also plan to extend vehicle registration deadlines.
UPDATE: March 25, 2020
Governor Jared Polis issues a statewide stay-at-home order that will take effect Thursday and last until April 11. The order instructs all of Colorado to stay home — unless their movement is absolutely essential — to stop the spread of the novel coronavirus. 
Only essential travel will be allowed, but you can still take walks, go to the grocery stores or work at an essential business. Violators of the order could face up to $1,000 fine and one year in jail, but Polis said he's counting on Coloradans to "do the right thing."  Similar to the counties' orders, the statewide order allows liquor stores, gun stores, marijuana stores and childcare centers to operate. 
Adams, Arapahoe, Boulder, Douglas and Jefferson counties announced shelter-in-place orders for residents, effective 8:00 AM on March 26 through April 17. The orders prohibit gatherings of any size, public or private, with people who do not live in the same household. It also prohibits traveling, except for essential services and medical care. Retail marijuana and liquor stores are still allowed to operate. As in the City and of County of Denver, real estate has been deemed an essential service in these counties, which means our REALTOR® and Industry Partner members who live and work in these counties can continue offering services to clients as long as they comply with social distancing requirements mandated by local and state government officials. 
Here's the order for Adams. Arapahoe and Douglas counties. Here's the order for Boulder County. Here's Jefferson County's announcement, which says the order will be available on the county's website soon.
UPDATE: March 24, 2020
DMAR's Chairman of the Board, Euan Graham, provides more information on what it means that 'real estate' is categorized as an essential professional service, as well as recommendations for our REALTOR® and Industry Partner members.​ Read memo here.
The Colorado Bar Association ("CBA") has approved a COVID-19 Addendum to real estate contracts, that real estate brokers can use to "pause" pending real estate transactions where the parties want to close but cannot due to circumstances caused by COVID-19.​ Download the COVID-19 form, here.
The Colorado Apartment Association recommended to its members create payment plans for renters who can't pay, waive late fees through the end of April, halt evictions and avoid rent increases. The association says it represents the owners of more than 282,000 apartment homes in the stat
On Monday afternoon, Boulder joined Denver and San Miguel County in issuing a stay-at-home order, which "requires that all people in the City of Boulder stay home and for businesses to implement work from home policies and delivery of goods to the greatest extent possible. All individuals are encouraged to conduct only essential activities necessary to promote health and safety, such as getting groceries, obtaining medical supplies, and getting outdoors only if strict social distancing is observed."
UPDATE: March 23, 2020
The City of Denver has amended the stay-at-home order, through Twitter, to exempt liquor stores and recreational marijuana dispensaries with "extreme" distancing measures. It's unclear what qualifies as "extreme physical distancing." All construction projects will now be exempt from the order, as well.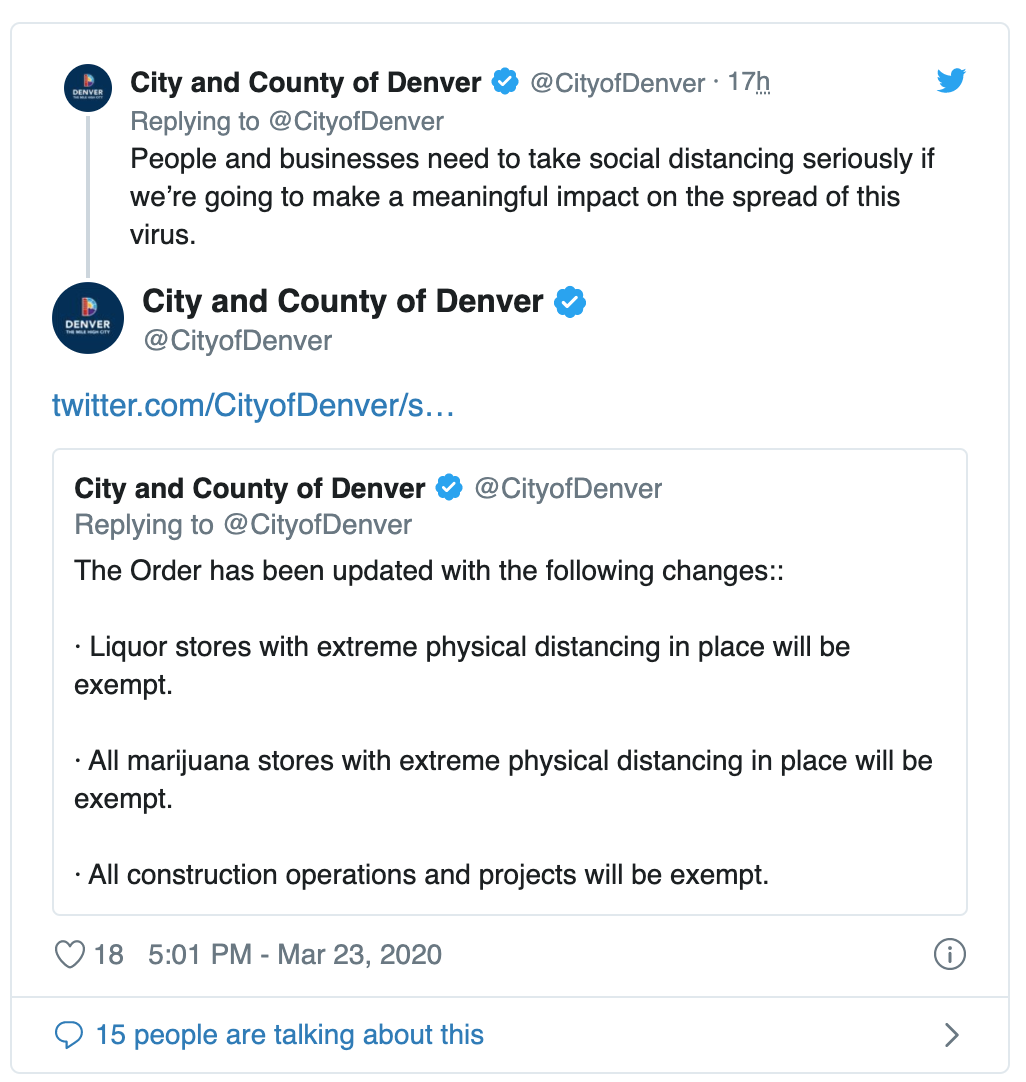 Denver Mayor Michael Hancock unveiled a stay-at-home order for the city and county. The order limits residents to leaving their homes for "essential activities" and will go into effect at ​ 5:00 PM on Tuesday, March 24 and stay in place through April 10 or later. The order encourages everyone who is not a member of an essential industry to stay home, but does not prohibit walking, hiking or purchasing essential goods. ​
Parks will remain open, but playgrounds will close. Recreational marijuana dispensaries and liquor stores are considered non-essential businesses and will be closed when the order takes effect. Medical marijuana dispensaries will still be allowed to operate and restaurants will still be allowed to offer take out and delivery. Construction, unless it is maintaining "critical infrastructure" is not considered essential. ​​
In a letter to members from DMAR's Chairman of the Board, Euan Graham, DMAR announced that it received clarification in an addendum to the Mayor's order issued this afternoon that 'real estate' was added by the Mayor's office under the qualified list of 'essential professional services' in a recent update to their original order. Therefore, real estate services are exempt from the stay-at-home directive so long as individuals involved in the real estate transaction comply with physical distancing requirements mandated by the City and County of Denver. 
Colorado Association of REALTORS® released a letter to members from Janene Johnson, 2020 CAR Chair; Robert Walkowicz, 2020 CAR Chair-Elect and Tyrone Adams, CAR CEO/President. They also directed members to visit www.coloradorealtors.com/Covid19 for additional updates, resources and information. 
Attorney General Phil Weiser this morning called on the state courts to reschedule criminal trials in an effort to protect judges, jurors, witnesses, attorneys, defendants and others from COVID-19. In an order on March 16, Chief Justice Nathan Coats gave each judicial district in Colorado discretion for how to handle the coronavirus outbreak. 
Update: March 22, 2020
Governor Jared Polis on Sunday afternoon ordered all "non-critical workplaces" in Colorado to cut their in-person workforce by 50 percent by Tuesday morning in order to increase social distancing and slow the spread of COVID-19. The order will last through 11:59 PM Friday, April 10, 2020. He did not issue a shelter-in-place order, as seen in cities across the county.
He also asked people to shop less and exercise outside less frequently and during less busy hours.
UPDATE: March 21, 2020
Governor Jared Polis announced Friday evening he's directing the Department of Regulatory Agencies to work with state-chartered financial institutions to address residential and commercial foreclosures.
In the meantime, he is requesting municipal and county governments to refrain from using law enforcement to carry out evictions or foreclosures unless there is a threat to public safety.
UPDATE: March 20, 2020
DMAR's Chairman of the Board, Euan Graham, gives an update regarding the coronavirus pandemic and DMAR's recommendations for open houses, showing properties and navigating this situation. Read memo here.
Governor Jared Polis said Friday he's working on an executive order to halt evictions and displacement in Colorado – a move that follows a decision by the U.S. Department of Housing and Urban Development on Wednesday to suspend evictions and foreclosures for mortgage holders through the end of April.
Soon after, federal loan agencies Freddie Mac and Fannie May also temporarily suspended evictions and foreclosures for Americans with federally backed mortgages. 
Given the influx of unemployment claims — more than 20,000, according to the Colorado Department of Labor and Employment — Polis said he's also working on an executive order to speed up unemployment payments. 
The governor encouraged financial institutions to halt all billing for loan payments.
Colorado is extending the income tax payment deadline until July 15, Governor Jared Polis said, an order which applies to all filers. The federal tax payment deadline was also extended to July 15 on Wednesday, but taxpayers still have to file by April 15. 
In an effort to boost revenues, Polis said, restaurants can now sell alcohol by take-out and delivery for the length of the shutdown. 
Polis also announced the formation of an emergency economic council made up of members of the private sector. Frederico Peña, former Denver mayor and U.S. Secretary of Transportation will be among those on the council and spoke at the press conference Friday. "This is a global economic challenge the likes of which I have not seen in my lifetime… we're going to focus on both short term and long term strategies," Peña said.
Unemployment claims in Colorado are up 1,454 percent between Monday and Thursday of this week, compared to last week, according to the Colorado Department of Labor and Employment.
UPDATE: March 19, 2020
DMAR extends cancellation of classes, events and Marketing/Connect Meetings from March 31st to April 30th.
Colorado Association of REALTORS® expands Legal Hotline Hours​ in response to the overwhelming call demand. Beginning March 23 through April 3, the Legal Hotline will be available from 8:00 AM to 4:00 PM. This additional two hours/day of Hotline availability will provide Colorado REALTORS® with expanded access to qualified real estate attorneys as they navigate the unique challenges currently impacting real estate transactions. Access the CAR Legal Hotline
Congress passed the Families First Coronavirus Response Act (H.R. 6201) providing support to American workers, families and businesses, including the expansion of paid sick leave and family medical leave.  It also includes refundable tax credits for small businesses and self-employed individuals to cover the cost of the leave. NAR's advocacy team continues to urge Congressional leaders to include support for self-employed professionals and other small business owners. This was included in the final bill. 
Governor Jared Polis suspended elective and non-essential surgeries and procedures. He also extended the public health order closing bars, restaurants, theaters, gyms and casinos to the end of April, and included nonessential personal service facilities, horse track and off-track betting facilities statewide. Nonessential personal services include hair or nail salons, spas, and tattoo or massage parlors, according to the order.​
And the governor updated an executive order for in-person contact during the state's elections. Here's the order.
Polis also created a special health insurance enrollment period for uninsured Coloradans from March 20 through April 3, 2020.
"Many people are unaware that they are eligible for financial assistance to help lower their premiums," said Michael Conway, Colorado Insurance Commissioner. "We encourage everyone who is uninsured to use this opportunity to visit Connect for Health Colorado, check what assistance they may be eligible for and enroll in coverage."
Denver Mayor Michael Hancock announced measures to help businesses hurt by social distancing, which has left many businesses across the state all but shut amid the COVID-19 outbreak. The city will create a $4 million grant program and waive late penalties for business taxes this year, the mayor said during a press conference with reporters Thursday afternoon.
Colorado small businesses impacted by COVID-19 can now seek up to $2 million in low-interest federal loans from the Small Business Administration's Economic Injury Disaster Loan Program, according to Governor Polis' office. Polis announced in a press release on Thursday that the state's application for federal disaster area designation has been approved.
UPDATE: March 18, 2020
Colorado Association of REALTORS®​ (CAR) Leadership has canceled the 2020 CAR Spring Summit that was to take place from April 21- 23 in Vail, CO. All registration fees paid to CAR for the 2020 CAR Spring Summit will be refunded back to each registrant in the same mode of payment it was received. Read cancellation notice here.
CAR also warns REALTORS® to be on the lookout for coronavirus scams. Earlier this week an email was sent out by a Washington state congressional candidate, Joshua Collins, asking people to sign a fake petition urging Gov. Jared Polis to suspend mortgage, rent and utility payments during the coronavirus pandemic. This is not a real petition, but a phishing scam in order to obtain the personal information and send recipients campaign emails and text messages. Learn more, here.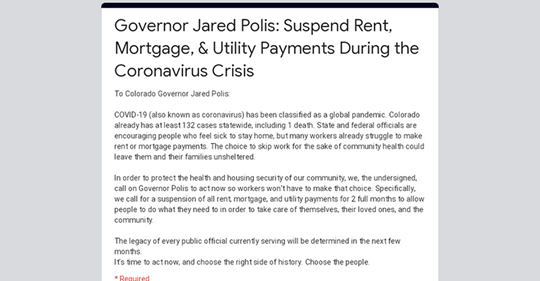 Governor Jared Polis has issued an executive order closing all Colorado school buildings starting Monday, March 23 through Friday, April 17.
The order, issued Wednesday evening, applies to "all public and private elementary and secondary schools in Colorado, including public preschools on public school campuses."
The order also directs the state's Commissioner of the Department of Education (CDE) to help school systems "as they develop and implement plans to assist families and students in accessing alternative learning, including online learning opportunities, ensuring the provision of school meals in accordance with the National School Lunch Act, offering waivers of instructional time as appropriate, and offering additional flexibility important for maintaining stability and ensuring fairness for students and employees."
The governor also amended a previous order temporarily closing the state's downhills ski resorts. He added an extra two weeks of closure, ending now on April 6, "due to the continued spread of the virus in our mountain communities."
Also Wednesday night, the Colorado Department of Public Health and Environment's Executive Director Jill Ryan, following the White House's lead, issued a public order banning public gatherings of more than 10 people.
In other news, Colorado Attorney General Phil Weiser today urged student loan servicers, debt collection agencies, and creditors to "refrain from mandatory debt collection efforts from those who are unable to pay because of their financial circumstance."
UPDATE: March 17, 2020
The Colorado Labor Department has seen a surge in unemployment claims, state health officials said Tuesday, from 400 on March 7 to more than 6,800 on March 17.
This follows an order from the state health department to close restaurants and bars to sit-in eating, among other efforts to increase social distancing to slow the spread of COVID-19, resulting in some workers feeling the effects. 
UPDATE: March 16, 2020
Governor Jared Polis's administration ordered the closure of in-house dining at all restaurants and bars in Colorado for at least 30 days. Delivery and takeout will still be available.
The order, issued by Jill Hunsaker Ryan, the executive director for the Colorado Department of Public Health and Environment, is effective Tuesday at 8:00 AM. According to the order, it applies to food courts, cafes, coffeehouses and other similar places of public accommodation offering food or beverage for on-premises consumption, bars, taverns, brewpubs, breweries, microbreweries, distillery pubs, wineries, tasting rooms, special licensees, clubs and other places of public accommodation offering alcoholic beverages for on-premises consumption, cigar bars; gymnasiums; movie and performance theaters, opera houses, concert halls, music halls and casinos.
The speedy spread of COVID-19 has slowed Colorado's economy, state economists say. In December, Colorado was projected to collect an extra $832.5 million in revenue for the next fiscal year, which begins on July 1. But, according to a quarterly revenue forecast by the Legislative Council, that revenue projection was adjusted down to just $27.3 million for next year. The forecast for the following 2021-22 fiscal year was reduced by $378.9 million. 
Denver Mayor Michael Hancock said the city is temporarily calling off housing evictions through a directive to the county's sheriff deputies. But, he added, he doesn't believe the city and county have the authority to waive late rent fees.
In other news, Xcel announced that it will not shut off power due to late payments "until further notice. If you are having difficulty paying your bills, contact us and we will arrange a payment plan that works for you," the investor-owned utility said in an email to customers.
UPDATE: March 15, 2020
Denver is preparing a public order following Sunday's revision of the Centers for Disease Control and Prevention guidelines recommending that in-person events of 50 or more people be postponed or canceled for the next eight weeks. 
City officials will hold a press conference at 11:00 AM Monday "to expand on how this new guidance will impact residents, businesses, and events in our city."
Also on Sunday, Denver announced it would be closing its motor vehicle branches to the public beginning Monday, March 16. Staff, too, is being told not to report to work until March 26. The city and county is offering a grace period "for expired vehicle registrations and for newly purchased vehicles not yet been registered through April 9, 2020."  Online motor vehicle services are available at www.denvergov.org/dmv.
UPDATE: March 14, 2020
Vail Resorts announced it will close its North American resorts – including Vail, Beaver Creek, Breckenridge and Keystone – through March 22 out of "an abundance of caution" in protecting customers from infection. The operators of Winter Park and Steamboat Springs quickly followed Vail Resorts' lead, and late Saturday evening, the governor issued an executive order closing all downhill ski resorts for one week "to slow the spread of COVID-19 and conserve medical resources in our mountain communities."
Lawmakers today passed a resolution to recess for two weeks amid the COVID-19 outbreak. Some are wondering if they will actually return in two weeks. Others are wondering if they have much of a choice with so much work left to do, such as passing a state budget.
UPDATE: March 13, 2020
DMAR announces the closure of all office locations and the cancellation of of classes, events and Marketing/Connect Meetings through March 31st. All staff members required to work remotely. Read memo here.
Colorado Association of REALTORS® General Counsel Scott Peterson discusses what Colorado REALTORS® need to know about Covid 19 and Real Estate Transactions in new episode of Legal Bites.
At 3:00 PM on Friday, Colorado health officials reported the first death from COVID-19 in Colorado. The death occurred in a female in her 80s with underlying health conditions residing in El Paso County, according to health officials.
During a news conference at the Capitol on Friday, Governor Jared Polis said there's a shortage of medical professionals in Colorado. The nurses and doctors are needed to respond to the spread of COVID-19, the disease caused by the new coronavirus. 
The governor is recommending the cancellation of gatherings of 250 people or more unless the venue can ensure some level of social distancing, which generally means people must have about six feet of space between them. Unlike other states, Polis has not ordered a statewide ban on large gatherings.
UPDATE: March 12, 2020
In Denver's City Hall, Mayor Michael Hancock declared a state of emergency for the city and county. The declaration could make more emergency services available and makes it easier for the city to obtain resources to address the new coronavirus. 
Efforts to have people work remotely to help limit the spread of the new coronavirus is going to require a heavy reliance on the internet. Universities, including CU Boulder and Colorado State University, are calling off in-person classes across the country. K-12 schools in Colorado are also closing. 
Colorado state lawmakers are preparing to take a recess this session as the coronavirus continues its anticipated spread across the state. But before lawmakers break, they want to pass a bill to allow parties to reschedule their county assemblies, during which hundreds of Democrats and Republicans gather to elect candidates to represent them in the primaries. The other option would be to have remote assembly participation. Lawmakers introduced an assembly bill Thursday afternoon and it is expected to pass by Saturday. 
UPDATE: March 11, 2020
Governor Jared Polis issued new guidance on the circumstances under which schools should close, and said he would be meeting with faith leaders to discuss protective measures among large congregations.
UPDATE: March 10, 2020
DMAR releases important message to members informing them of increased sanitization and cleaning products enforced at office locations. Additionally, DMAR announces they will waive all cancellation fees for classes and events. Read memo here.
The governor declared a state of emergency and the World Health Organization announced a pandemic.
Several advocacy groups canceled lobbying days at the state Capitol and lawmakers are considering whether to recess. CU Boulder canceled in-person classes for the rest of the semester. 
When cases test positive, the person and their close contacts (e.g. family members and roommates) are asked to voluntarily "isolate," which means they have tested positive for COVID-19, or "quarantine" themselves when there is a suspected exposure, state health officials said. Public health agencies can issue quarantine and isolation orders requiring individuals to remain at home for a certain period of time, officials said. 
The state's Division of Insurance issued a directive on Monday, waiving the co-payments and other charges for those seeing a coronavirus test, but only if the patient's insurance plan is with companies regulated by the state. If your insurance card has "CO-DOI" in the bottom corner, your plan is regulated by the state, the bulletin states. Otherwise, you'll need to contact your employer.
The bulletin also spelled out three criteria that patients will have to meet to be tested. 
UPDATE: March 6, 2020
NAR issues Coronavirus: A Guide for REALTOR® Associations. View guide, here
UPDATE: March 5, 2020
NAR issues tips for REALTORS® to reduce risk of contracting and spreading of coronavirus. View guide, here.